The Jazziezies will provide you with easy listening jazz, and are very suited for the musical setting of all your events.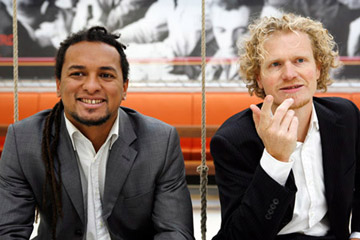 photo:
Eveline van Egdom
Organizing a party? The 'Jazziezies', with their classy feel for easy listening jazz, will give your event that special extra touch you have been looking for. All too often do people forget how important the musical ambiance can be when people meet.
We will help enhance a pleasant atmosphere through our music and we know that we always leave our customers with a warm feeling. The music is our passion, making people feel good is our mission!
The 'Jazziezies' provide you with stylish entertainment and musical finesse. Whether it will be at the opening of an exhibition, a congress, a businessparty or a marriage, the intimate character of our music will guarantee your party to be a memorable event.
The instrumentation of saxophone and guitar makes us a very mobile unit and a space of two square meters will usually be enough to place us. Technically our only requirement is a power-point. If you'd like, we will be glad to exchange thoughts on the details of your event concerning the music.
And finally, at your demand the duo may also be extended to the format of a trio, quartet or quintet, by the optional addition of e.g., a singer, a bass player or a drummer.